History
Glenwood Private School opened its doors in 1979 to offer parents of the community a safe and secure childcare facility that balances private education and loving care of their precious children.
Family-owned and operated for over 30 years, we continue this tradition and uphold the children's general happiness in the highest regards. We have expanded to offer childcare for infants age 6 weeks through 17 months, and a hands on learning approach for 18 months through 2 years old, an introductory skills 3 year old program, a great foundation building Pre-Kindergarten and private Kindergartern, 1st and 2nd grade schooling.
Features
Glenwood Private School offers many unique features to aid in the education and entertainment of your children.
Two separate, well-equipped playgrounds offers children the opportunity to get outside and play with friends in a safe and fun environment.

A family-specific coded entry system to gain access to the building and ensure the safety of all students.

A "Big-Centers" or main room area inside with a variety of manipulative play areas, including a large house center, construction and block play, race cars track, and many more.

Separate extra curricular programs and activities available, including:

"Bilingual Child" (a Spanish language class)
"Tumble Team" gymnastics program
"Sports Fun" (an introductory sports program), and,
"KinderDance" dance class.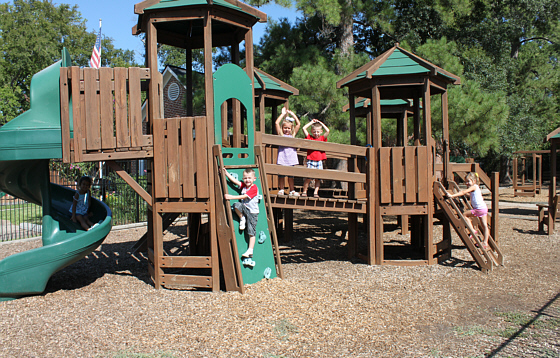 Staff
Glenwood Private School hires only highly qualified teachers and childcare workers. Each employee is CPR and first aid certified, including certification in SIDS and Shaken Baby Syndrome. Everyone is cleared through the Central Registry and DPS name-based background check as well as the FBI national fingerprint background check. We have certified Kindergarten, First, and Second grade teachers, as well as several other childcare teachers with their college degrees.
All staff are required to maintain training to ensure up to date information on needed skills and topics for the best care of your children. Many teachers have been employed with Glenwood for several years and some even attended Glenwood when they were younger. We pride ourselves on continuing this family atmosphere with both staff and students.
---